"For to us a Child is born, to us a Son is given, and the government will be on His shoulders. And He will be called Wonderful Counselor, Mighty God, Everlasting Father, Prince of Peace" – Isaiah.9:6
Greetings once more friends. May I begin by wishing all my readers a peaceful and joy-filled Christmas season.
It is that wonderful occasion of the year when Christians everywhere remember and celebrate the birth of Jesus. I have written about Jesus birth through different perspectives in past years, but I would like to do something different this year. I would like to share with you how the end result of His birth impact humanity's liberation from all forms of evil, pain and suffering, frustration and heartaches, moral bankruptcy and degeneracy, ultimately from destruction and death, so we will appreciate this season of His birth and role as the Messiah.
God's prime reason for His Son's life was to die for human sins regardless of color, language, culture, nationality, or whatever station in life. The sin-condition of existing in the spirit of rebellion is the underlying cause for all these negative circumstances. Being a Savior means more than dying for humanity, important as that is, but it opens the door to a whole array of intermediary functions He performs as Mediator to bring humanity to freedom from sin and entering a new life liberated from the ravages of sin. I hope by the end of this post, you will see that Jesus' birth is indeed Good News, the best news mankind could ever hope for.
Baby Jesus and Adoration of the Magi (Wiki Commons)
So, this post reveals the end-purpose of Jesus' birth and all He has accomplished and continues to do today, reflects the embodiment of His birth as a babe in Bethlehem. Hence, He is the personification of the Gospel message. Can we look in one place to find all the things Jesus was born to become and do what He is required today to bring humanity to salvation and immortality? We know after Jesus was born He grew up and became a man who took the Gospel message from His Father to His people and to the whole world. (Matt.28:18-20; Luk.24:47)
Then He was crucified, but He did not remain in His tomb a dead Savior. God resurrected Jesus from the dead and He became the first human to be raised to immortality. (Col.1:18) He ascended to heaven, but not solely to return to His divine glory as the second Person in the Triune Godhead, but to continue what He began in His earthly and now glorified divine/human ministry. Now, His ministry is both heavenly and earthly.
Now, He lives in His glorious divine/human form as mankind's High Priest by divine appointment of Almighty God His Father. (see Heb.5:1-10). By taking our humanity unto Himself as "Immanuel," He glorified mankind by His life, death, resurrection and ascension, and thus God equipped Him as High Priest to mediate for and on behalf of humanity before God the Father, who in turn imputes Jesus' glorious humanity upon mankind.
Jesus' end-work, starting from His birth as a baby in Bethlehem, is wrapped up in His High Priestly office and responsibility He continues to do today for His people He Loves. (Heb.4:14-16; 5:1-10; 6:19-20; 7:1-17) He said, "I am the Alpha and the Omega, the Beginning and the End" of God's work of Love for humanity. (Rev.22:13) The Father's plan was for Jesus to take our humanity in Himself through Mary His human mother, and glorify our humanity in His now divine/human form ("Immanuel") and be humanity's eternal High Priest. He came as the Immanuel ("God with us") fully God and fully man. (Isa.7:14; Matt.1:23)
No other Person born into the human race is deserved and suited for this eternal High Priestly role than Jesus Christ. He was born for this very purpose. He was to live a perfect life and be crucified as mankind's Savior, resurrected, and return back to the Father's right hand in heaven. As High Priest, Jesus does His work today in the heavenly temple. As High Priest, Jesus cannot perform His function without His temple, they are one and the same. Much like a pilot is unfunctional without his plane, so Jesus' priestly role can only be done within His spiritual temple.
What He does in His temple tells us what He is doing on behalf of, and in humanity today both in heaven and on earth. God has not left us in the dark as far as the priestly functions of Jesus today. It is clearly revealed in the Bible for all to see. In this post I will elaborate on Jesus' High Priestly function, and show the absolute importance and relevance of His birth, and what He was born to do for humanity, which only He could perform, and continues to do today.
Jesus and the temple are synonymous since He referred to Himself as God's temple. He told the people of His day, "Destroy this temple, and I will raise it again in three days…But the temple He had spoken of was His body. After He was raised from the dead, His disciples recalled what He had said. Then they believed the scripture and the words that Jesus had spoken" (John 2:19, 21-22). Jesus Christ is the personified temple of God, in whom saved humanity lives, and He lives and walks in us. (2 Cor.6:16; 1 John 2:6)
In my October blog post I had written about this topic which I titled, "You are the Temple of The Living God." You may read this at http://bulamanriver.net/10700. I had said that when God instructed Moses to build the temple in the wilderness, He was showing humanity a copy of His heavenly temple reflected in the Person of Christ. Israel had just been freed from slavery in Egypt, depicting our own spiritual freedom from Satan's 'sin-prison' today. Each time Moses met Pharaoh he declared why God wanted His people freed, "Let my people go, so that they may worship Me in the wilderness" (Exo.4:23; 5:1; 7:16; 8:1; 9:1).
A temple is a place of worship. I have said God does not live in physical temples but a spiritual one for He is composed of Spirit, not physical matter. He is not human to live in a physical structure. The reason Moses erected a physical temple was to show humans in a way he can understand what His true spiritual temple is like in heaven and replicated on earth. As the book of Hebrews tell us, "They (Israel) serve in a system of worship that is only a copy, a shadow of the real one in heaven" (Heb.8:5, NLT). Jesus said, "Believe Me when I say that I am in the Father and the Father is in Me" (John 14:11).
Today, under the New Covenant we live within the confines of that heavenly temple in the presence of His glorified divine/human Son as our High Priest. Jesus told the disciples of the beautiful truth of this 'temple life' in this manner, "My prayer is not for them alone. I pray also for those who will believe in Me through their message, that all of them may be one, Father, just as You are in Me and i am in You. May they also be in Us so that the world may believe that You have sent Me. I have given them the glory that You gave Me, that they may be one as We are one – I in them and You in Me" (John 17:20-23). What Jesus describes here is the temple life that saved humanity have been given the privilege to live.
On earth, His temple is the spiritual life of the believer, not a physical building however magnificent and ornate the structure may appear. Paul tells humanity clearly, "Do you not know that your bodies are temples of the Holy Spirit, who is in you, whom you have received from God? You are not your own; you were bought at a price. Therefore, honor God with your bodies" (1 Cor.6:19-20). A human being is not merely mortal, he/she is basically spiritual because man is made in God's divine image. (Gen.1:26-27) Hence, humans qualify as a spiritual home for the divine. Note, the involvement of the Triune Being of God in the life of the believer.
A Rendering of The Tabernacle in the Wilderness God Instructed Moses to Build. The Altar and Laver are Shown in the Outer Court In Front of Inner Temple (Wiki Commons)
There were seven fixtures God instructed Moses to build which were an intrinsic part of the temple in the wilderness. These are the seven holy furnishings that formed part of the temple:
1)     Altar of Burnt Offering (Exodus 27:1)
2)     Laver (Exodus 30:18)
3)     Table of Showbread (Exodus 25:23)
4)     Lampstand (Exodus 25:31)
5)     Altar of Incense (Exodus 30:1)
6)     Ark of the Covenant (Exodus 25:10)
7)     Mercy Seat (Exodus 25:17
Each of these fixture represent the work that only Christ the High Priest continues to perform today in the heavenly temple before the Eternal God and Father on behalf of humanity for the purpose of keeping believers in divine completeness with Him until all things are restituted to God upon this earth in accordance with His purposes and timetable. In spirit, we are brought into the heavenly temple through the Holy Spirit indwelling us on earth in the spiritual life (temple) of the human body, where humanity is collectively called the Church, and the Church in turn is called the "Body of Christ" (1 Cor.12:24-27)
This is the essence of the prayer Jesus taught us to pray, "Your Kingdom come, Your will be done, on earth as it is in heaven" (Matt.6:10). It means may the temple-life we live in the Spirit in Christ our High Priest in heaven be replicated in the spiritual temple of the human body of believers on earth. Let me now show how Jesus performs each of these functions to keep us in divine completeness with the Father, and show without any shadow of doubt why He and only He is the Savior of all humanity.
Altar of Burnt Offering – brings to our mind the Lord Jesus who was slain and offered as sacrifice for human sins. Redemption always works through the atoning blood of Christ. Christ is the Lamb of God who takes away the sin of the world. (John 1:29) God meets man only at the cross, where sins past, present, and future receive absolution through the sacrifice of the Passover Lamb. (John 3:16-17; 1 Cor.11:26)
Here, we see the everlasting sacrifice of Jesus as Savior done once for all time for the forgiveness of sins and atonement of the whole of humanity since Adam and into the future. This function is for our spiritual health and well-being in holy and righteous condition before the Father.
Laver – The Laver was a large bowl filled with water used for cleansing before the priest enter the Holy Place. We are still human and subject to sin in the sin-condition of rebellion in this world, not willfully but through the devil's deception, human weakness, mistakes, and ignorance. It signifies our separation from sin and the world by our own crucifixion with Christ, established by water baptism in the washing away of the uncleanness of the spirit of the age in which we live (sin-condition), as we keep ourselves holy by confession, repentance, resistance to sin, Love of God's will through the atoning blood of Christ, the power of the Holy Spirit. (Rom.6:1-14)
In this function, we are reminded of what Jesus did for us when He entered the Jordan to be baptized for us and repent of our sins by the hand of John the Baptist. Jesus had no sin to repent of, so He bore our sins by repenting for humanity, and subsequently died for us on His cross. Recall what Jesus told John when he first hesitated baptizing Him, "Let it be so now; it is proper for us to do this to fulfill all righteousness." In other words, they must carry out God's will, so humans can repent by imputing what Jesus' has done for us. He has made it possible for us to repent, not because  we can do it on our own. God ascribes His Son's finished work upon us. (Phi.3:9; Rom.4:5; 5:19)
Then, He inaugurated the gift of the Spirit from the Father to mankind prior to Pentecost. (Matt.3:13-17) The Spirit led Jesus into the wilderness to face and defeat Satan in the temptations for us, and then died on the cross for us, thus, ending the cycle of death through sin which started from Adam's fall. Jesus rebooted God's purpose in mankind by washing us clean and giving back true life in His likeness. This is the basis for our spiritual and psychological health and welfare.
The Priestly Robes and 7 Temple Furnishings (Wiki Commons) 
Table of Showbread – Jesus said "I am the bread of life." This typifies the continual presentation of the living Word of God, Christ. The Bible is the written Word of God. Jesus is the Personified Word of God. When we partake in the communion by eating the bread (representing His Body/flesh) and drinking the wine (representing His blood for life is in the blood) we are born again and take up the new life if Jesus living spiritually in His glorious human/divine heavenly life on earth through God's Word (Jesus).
In this function, we are reminded and refreshed by Jesus' "Immanuel humanity" we have adopted and been born into after daily crucifying the fallen "Adamic humanity" to the cross. (see http://bulamanriver.net/9718). The bread and wine (communion) represent Jesus' body and blood (new humanity), the born-again believer. This is the source of our confidence in living upon this earth as we rely upon the Word of God, both the literal (Bible) and personified Christ (High Priest). (John 6:53-58)
Lampstand – The Golden Lampstand had a central shaft with which represents Christ, with six branches. The Body of Christ (believers/church) is represented by the six-side branches, three and each side. (see picture below) The believer is to be a branch of the Lampstand, a member of Christ who is the light of the world. (John 8:12) The Holy Spirit is the oil that gives light or gifts to each believer and represents the baptism with the Holy Spirit into the Body of Christ, the church. (Zech.4:1-6) This began at Pentecost.
In this function light represents Jesus Christ. (John 8:12) For humans, light symbolize one's gift and defines who he/she is in Christ. Jesus confers gifts upon His followers to keep them in purposeful and focused communion with the Father throughout their sojourn on earth under the Spirit's direction and protection. (Eph.4:7-8) This gives us our true purpose to life, and inspires confidence in all we do. As God told Zerubbabel,, "Not by might nor by power, but by My Spirit,' says the Lord Almighty" (Zech.4:6).
The Golden Lampstand (Temple Menorah) (Wiki Commons) 
Altar of Incense – The Altar of Incense speaks to us of the believer's prayers and worship empowered by Jesus and the Spirit bringing the fragrance of the beloved Son before the face of the Father in Heaven. (Eph.5:1-2) Jesus and the Spirit prays for us. (see Rom.8:34 and Rom.8:26, also Isa.53:12b) We do not know how to pray perfectly, but Jesus and the Spirit does. We do not know how to Love the Father perfectly in our depraved hearts, but Jesus through the Spirit does. (Rom.5:5)
Here, we live in a time/space in our prayer life where death to self-love and self-will abides and we are alive in the Spirit through prayers of supplication, travailing in spirit, intercession, battles against evil forces, petition, praise, adoration, giving of thanks, Love, Faith, and Hope. The incense signifies Jesus taking our prayers, our worship, our gratitude, and perfecting them in Himself before the Father and transforming them into a sweet-smelling aroma before God.
Ark of the Covenant – The Ark of the Covenant held three artifacts in it and they typify the Lord Jesus Christ and His High Priestly function on behalf of believers in whom Christ new life in the Spirit's power is being formed. These are:
Ø  The Ten Commandments Exo.16:34; Heb.9:4—God's Love revealed in His Law and wrought in our minds through His Spirit. (Rom.5:5)
Ø  The Gold Jar of Manna Exo.16:34; Heb.9:4—daily strength from Herald the Spirit and dependability on Christ in matters great and small. The miraculous manna symbolize the miraculous life in the Spirit.
Ø  Aaron's Rod Heb.9:4—the Rod represents Jesus' High Priestly sovereign power of Kingship and the power to impart immortality to His people.
In this function, Jesus guides us into our emotional health and maturity through the fruits of Love, confidence and peace in God's promises through miraculous interventions, and the realization we are part of His sovereignty as citizens of His Kingdom.
Mercy Seat— The Mercy Seat served as a covering lid for the Ark of the Covenant where God Almighty is seated. It is made of solid-gold and portrays the fullness of the Glory of God and our unity with the Father through Christ and the Holy Spirit. All that Christ has done in the six functions prior to this, is to unite us with the Father as His children, caressed in His Love forever.
Here, we have our place of rest and assurance in the life of God in His Triune Being. This relates to human life on earth in the present, and humanity's eternal future as revealed in Revelation 21, "Then I saw "a new heaven and a new earth," for the first heaven and the first earth had passed away, and there was no longer any sea. I saw the Holy City, the new Jerusalem, coming down out of heaven from God, prepared as a bride beautifully dressed for her husband. And I heard a loud voice from the throne saying, "Look! God's dwelling place is now among the people, and He will dwell with them. They will be His people, and God Himself will be with them and be their God. 'He will wipe every tear from their eyes. There will be no more death' or mourning or crying or pain, for the old order of things has passed away. He who was seated on the throne said, "I am making everything new!" Then he said, "Write this down, for these words are trustworthy and true" He said to me: "It is done. I am the Alpha and the Omega, the Beginning and the End. To the thirsty I will give water without cost from the spring of the water of life. Those who are victorious will inherit all this, and I will be their God and they will be My children. But the cowardly, the unbelieving, the vile, the murderers, the sexually immoral, those who practice magic arts, the idolaters and all liars—they will be consigned to the fiery lake of burning sulfur. This is the second death" (Rev.21:1-8).
The Mercy Seat & Ark of the Covenant with High Priest Offering Incense Symbolizing Prayer & Praise of the Faithful (Wiki Commons)
That is a brief explanation of the seven fixtures of the temple in the wilderness God commanded Moses to build, which represent Jesus' work as our High Priest, Savior and Mediator in the heavenly temple today. The Bible states, "This is why Moses was warned when he was about to build the tabernacle: "See to it that you make everything according to the pattern shown you on the mountain" (Heb.8:5; Exo.25:9). When Moses built the temple and its artifacts and fixture he was making a copy of the heavenly sanctuary and the shadow of what is happening in heaven on a daily basis as Jesus performs the seven High Priestly functions that is entirely necessary for humanity's salvation.
These seven divine works Jesus has already done upon earth and continues to do in the temple in heaven before the Father, and on earth in the human temple of the believer's body and life. The earthly temple of God is not a physical structure, but the human body (church), as Paul said, "Do you not know that your bodies are temples of the Holy Spirit, who is in you, whom you have received from God? (1 Cor.6:19; also, 1 Cor.12:27-31) The prophet Ezekiel and apostle Paul quote God stating, "My dwelling place will be with them and will walk among them; I will be their God, and they will be My people" (Ezek.37:27; 2 Cor.6:16). God's spiritual temple is the inner sanctum of the hearts and minds of humanity that is surrendered and given to Christ, and in which He lives and walks.
So, as God's will is being done in His heavenly temple in Christ, it is also being carried out upon earth in His earthly temple of the inner sanctum of the hearts and minds of humanity given to Christ. (Matt.6:10) What Christ has done, which He continues to do as our glorified human High Priest, is fully expounded and pictured in these seven fixtures within the temple of Himself in heaven in the Father's presence for saved humanity. (John 2:19-22)
No human since Adam has been found worthy but Jesus, the 'second Adam,' to perform this God-given role of being humanity's glorified High Priest to unite mankind to the triune God for eternity. (1 Cor.15:22, 45) Hence, the Bible emphatically states that humanity has been made complete in Him (Col.2:10) God the Father in turn imputes and attributes His Son's completed work today as High Priest upon humanity for our salvation. (you can read about the principle of attribution at: http://bulamanriver.net/10980). These seven functions depict the surrendered life Jesus has lived to God, so we can.
As we celebrate the birth of Jesus Christ our Savior, let us stop for a few moments to reflect upon His life – from His birth in the manger in Bethlehem, to living the perfect life for us, being sacrificed for our sins, resurrected and ascended into heaven to His High Priestly office, which Paul aptly captures in his letter to the Romans, "Christ's one act of righteousness brings a right relationship with God and new life for everyone" (Rom.5:18, NLT).
Travelling from Afar to Bethlehem, The Wise Men Bear Gifts for The Baby Jesus (Wiki Commons)
May I wish all my readers a life filled with a confident peace, hope, and joy this Christmas, through Christ our Savior and eternal Mediator. Indeed, He is Good News for all of humanity!
"Christ's one act of righteousness brings a right relationship with God and new life for everyone" (Pic: Wiki Commons)
Petition: Friends, as I have closed my post in the past, I customarily give our readers the opportunity to give their lives to our Maker. I thank you for investing your precious time with me in the sharing of the good news of Jesus who has enabled us to live the Triune Life*. Jesus is alive today as our High Priest in heaven seated at His Father's side, and ceaselessly mediating for us. I hope that in your heart of heart you will receive Him as your personal Savior, receive God's Spirit, and be part of living this glorious humanity made children of God forever. You can privately and quietly pray the prayer below in your heart. I am asking you to pray this prayer as a human being Christ died for, regardless of your background. All are inducted into the one mankind Jesus saved, not into any religious sect or denomination – into the glorious humanity that Christ is preparing as the holy temple for God's dwelling:
Prayer: "Almighty God, Father of all humanity, forgive me of all my sins for I receive Your Son, Jesus, as my personal Savior. In Your incalculable grace, grant Your promised celestial life in Your Son through Your Holy Spirit, and open my eyes to the wondrous gifts you have conferred upon me and all humanity. May Your Love guide and protect me and my Loved ones always, and bring us all into Your beloved and divine Kingdom. I praise and thank You, Amen."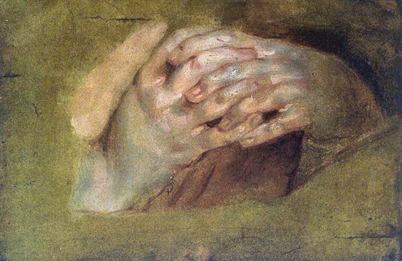 Prayer is A Solemn One-On-One Spiritual Love Dialogue Between a Person and God the Father (Wiki Commons)
Blessing:
Until we meet again in my next post, may the blessings of the God who ceaselessly expresses Himself in His dependable Triune Love, be with you always. May the Spirit enliven your spirit and make all things concerning you possible as you live the "Triune Life"* in the person of Jesus' "Immanuel humanity." Be strong in the Lord's joy.
Thank you for visiting.
Kiang,
(Your Servant In Christ)
* "Triune Life" means to inherit human personhood identifying us as true persons with gifts in Christ and living according to the image and likeness of God. (Gen.1:26-27; Rom.8:29) It means a believer who lives the 3-dimensional life with the Triune God, as opposed to the 'solitary' 1-dimensional life in himself ("Adamic humanity"). It means to live in relationship with God, as Father, Son, and Holy Spirit, who lives and walks in you ("Immanuel humanity"). Man's union with the Triune God, or "Triune Living," is made possible by Jesus, who Himself, is one in substance and reality with the Triune God, who took our humanity into the very Being of the Triune Godhead. To live the "Triune Life" is the miraculous expression of the Spirit in us. The miraculous life is the promise of the New Covenant, "I will put my Spirit within you, and cause you to walk in My statutes, and you shall keep My ordinances, and do them" (Ezek.36:27) You can read more at: http://bulamanriver.net/?p=8036
**Bulamanriver: To read the different facets of the life of the Bulamanriver, go to my website, www.bulamanriver.com, where you can order a copy of my book, "Bulamanriver – The Miracle of Triune Living" Or, you may go to the directory banner at top and click "Mission" where you will find more information.
Mission Statement: Read the Triune Life Mission, Vision, and Value statements at: http://bulamanriver.net/8664
All scriptures are taken from the NIV Version 2011, unless stated otherwise.
Note: All information is copy-write material. Any information obtained from this website that is used for publication should be acknowledged by citing the website address, date of acquisition and information pertinent to original authorship. For general guidelines regarding web citations see The Guide for Citing Electronic Information. Thank you.